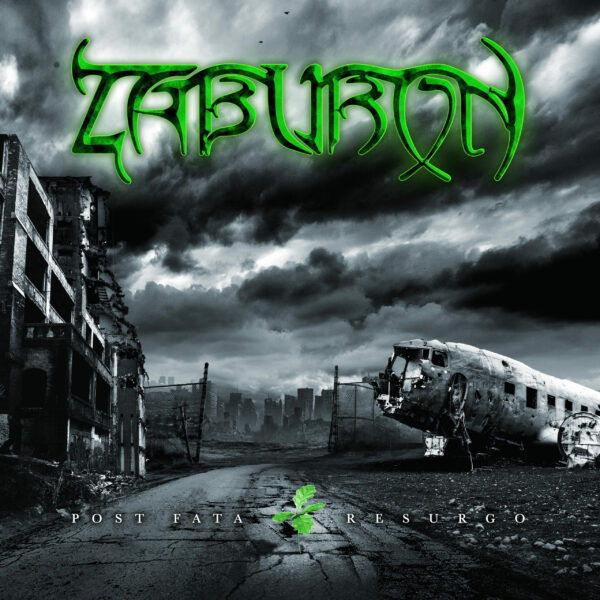 POST FATA RESURGO
The motto of the Phoenix 'Post fata resurgo' – 'After death I rise again' represents nature
finally resurrecting when humanity dies out.
'Post fata resurgo' is Zaburon's second LP after 2003's 'Sic Bellum Incipit',
and coincides with the Italian death metal band's reunion after a 16-year
absence.
The entire LP transports us to the hypothetical end of the world caused by a
blind humanity that, through its greed and lack of foresight, has triggered
its own demise.
One of the possible causes of the defeat of mankind will be war and the band, demonstrating that even a
Death Metal band can have an anti-war song, they wrote War (track 9), and wants to dedicate it to all guys,
who have to fight in Ukraine for their lives.
But beyond humanity there is still life… It is our planet, nature, that takes
back the space that was taken from it by humankind, returning to dominate
a world that is finally in balance.
Written and produced by the guitarist Luca Zanardi,
Recorded by Luca Zanardi and Andrea Trapasso
Edited by Andrea Trapasso at L'Arte del suono studio, Italy
Mixed by Daniel Bergstrand at 33 Studio SDFX, Sweden
Mastered by Lawrence Mackrory at Obey Studios, Sweden
Artwork by Maurizio Piccinelli – Sabnock Design
Line-up:
● Davide Ricciuti – Vocals
● Luca Zanardi – Guitars
● Antonello d'Aguanno – Bass
● Christian Togni – Drums
Guest:
Andrea Trapasso – Synth and Keyboards